Bridging loans tailored for you
Bridging loans from
£50,000 to £50 million
Bridging Available with no proof of income
No Upfront fees
First and Second Charge Bridging
Up to 24 month term
Rates from 0.48%
Up to 100% Loan to Value on purchase
Award winning bridging loan specialists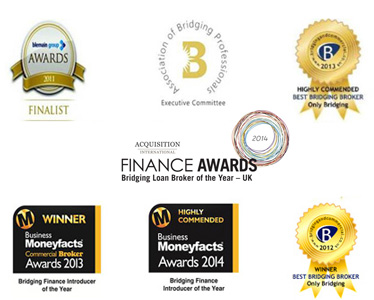 "I bank with a private client financial institution, and can say that all of the people I dealt with at Only Bridging exceed the level of service which I am used to. They approached every issue with a solution-oriented focus, and were effortlessly please, and a joy to deal with. I recommend them highly."
"Only Bridging made the whole process a dream – from start to finish – everyone I spoke to was so helpful and friendly, they made the application process completely smooth, no hiccups or mistakes that needed rectifying, and did all the processing and chasing for me, as well as finding me an amazing rate that no other company could beat. I couldn't recommend them highly enough!"
WHY SELECT ONLY BRIDGING
Only Bridging is an award winning specialised bridging finance broker that works with individual clients, investment professionals and property developers. If you need a broker that has unrivalled access to an exceptional panel of bridging lenders then you should call us at Only Bridging. Each application is considered on it's own merit and uniqueness and a bridging specialist is available to meet with you to discuss your specific requirements. Our case studies and testimonials are proof of our commitment to our clients regardless of the loan value or size of the project.
Why you might consider a bridging loan:
PROPERTY ACQUISITION OR DEVELOPMENT:
A bridging loan can be especially useful for purchase at auction, or if the property is to be developed and sold within a short time frame.
BUYING AND SELLING YOUR HOME:
We know that moving house can be stressful. Waiting for your house sale to finalise, while also securing a new home is made easier with an Only Bridging loan. Secure your new home, while the sale of your old house finalises.
PERMITS:
Permits can be time consuming, and a bridging loan can be a great option to consider while waiting.
REFURBISHMENT:
If your property doesn't meet the Buy to Let criteria, our bridging loan options can help you turn things around.
CASH RELEASE:
If you need cash, Only Bridging can unlock the cash tied up in your current property(s).
REFINANCING
Need money to start your next project? An Only Bridging loan can help you get the capital needed out of existing property.
REPRESENTATIVE EXAMPLE
An interest only mortgage of £225,000 payable over 12 months on a fixed rate of 0.8% per month would require 12 monthly payments of £1,944.08.
The total amount payable would be £256,891.39 made up of the loan amount plus interest of £23,328.99, a facility fee of £4,552.40, assessment fee of £295, a funds transfer fee of £35, lender's legal fee of £540, valuation fee of £400, broker fee of £2,620, and a redemption admin fee of £120.
The overall cost for comparison is 14.2% APRC representative.
THINK CAREFULLY BEFORE SECURING OTHER DEBTS AGAINST YOUR HOME. YOUR HOME MAY BE REPOSSESSED IF YOU DO NOT KEEP UP REPAYMENTS ON A MORTGAGE OR ANY OTHER DEBT SECURED ON IT.
Loan.co.uk Mortgages Ltd is authorised and regulated by the Financial Conduct Authority under FCA Permission Number 709671 and is registered on the Data Protection Register with the Information Commissioner's Office registration number Z9518230 Registered office address: 46 Alexandra Street, Southend On Sea, Essex, SS1 1BJ Company number 05038750.